Vancouver Golf Tour COVID-19 Updates
Details

Category: Inside Golf
Published: 2020-03-19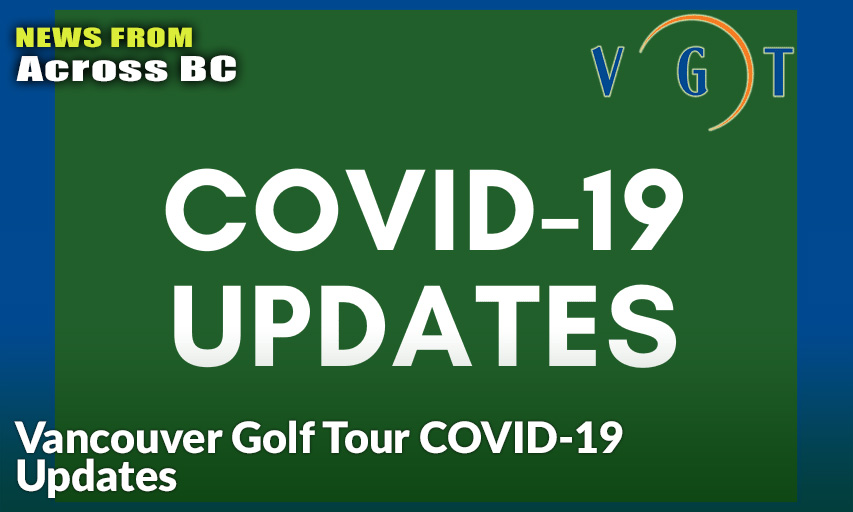 To VGT Team and Players: At This Time VGT will PAUSE.
After closely following the rapidly changing Covid-19 concerns and the Ministry of Health Guidelines, (particularly today announcing a recommendation to cancel all events and gatherings with 50 people or more), we have decided to postpone the start of the 2020 VGT Season for the health and safety of our VGT team, our volunteers, our players and our community. 
We do not take this position lightly and know that some of you will not share our views, but we feel it is in our best interests to take this step at this time in order to help reduce the spread of the Covid-19 virus.
We are unable to provide a definite start date to our season at this time but can advise that it will be no earlier than April 23rd at the JM Media VGT Masters at Morgan Creek.  All player tournament entries paid to date for events earlier than this will be refunded as promptly as possible.
With our first two events, the BRAD GARSIDE OPEN and the GRUPO BIMBO BC MATCH PLAY completely sold out, we will attempt to re-schedule these events at a later time in the season for the benefit of all our golfers to have our VGT season close on a very high note!
We will provide further updates closer to the April 23rd date to confirm the start or to announce further postponements of our season's start.  Thank you all for your patience and understanding in these unprecedented times.  We hope all of you, your families and your friends, are healthy and stay safe.
---
I think we can all agree we are in unchartered waters in recent weeks with the COVID-19 outbreak.   It is a troubling time for sure and our thoughts go out to those individuals, families and businesses that have been affected by this horrible virus.
Amid all of the recent recommendations being handed down by our Ministry of Health, we had no choice but to put our season 'on pause' until further notice.  We are patiently waiting for the time when group settings of 100 or more is a safe time based on the recommendations of our Ministry of Health.
In the meantime, I think many of you as passionate golfers are wondering "Is it Safe to play golf" in these troubling times.
I want to share a link from a Golf Digest article that hopefully helps you answer this question  "Is it Safe to Golf amidst the COVID-19 virus outbreak". 
The article reads YES YOU CAN PLAY GOLF SAFELY WITH PROPER PRECAUTIONS.  If you are considering getting out to the golf course, please read so you can make this decision for yourself and be aware of do's and dont's when golfing at this time: www.GolfDigest.com
So amid this COVID-19 crisis, we have some good news.  EARLY BIRD PRICING for the TSN 1040 Vancouver Discount Golf Card has been held at $54.95 (reduced from $59.95). 
Today, we are offering a $50E-Transfer special to our VGT Members (including tax). 
To purchase the card at this special price, please follow the link below,  complete the online form and instead of paying online with credit card, follow-up by sending $50 to This email address is being protected from spambots. You need JavaScript enabled to view it. and your card will be sent in the mail today!
The TSN 1040 sponsored VANCOUVER DISCOUNT GOLF CARD has over $4,000 in green fee savings at 30 Lower Mainland and Washington State Golf Courses.
CLICK HERE FOR DETAILS & TO PURCHASE THE CARD
HERE ARE SOME OF THE 2020 GOLF COURSE PARTNERS:
Big Sky Golf Club
Westwood Plateau Golf & Country Club
Pagoda Ridge Golf Course
Meadow Gardens Golf Club
Sandpiper Golf Course
Pitt Meadows Golf Club
Surrey Golf Course
Chilliwack Golf & Country Club
CLICK HERE TO SEE A FULL LIST OF 2020 GOLF COURSE PARTNERS & OFFERS!
If you make the decision to get out and play, please be safe and take the necessary precautions to help contain the spread of the COVID-19 Virus.
Good Golfing and Looking forward to seeing you all on the links this year!
Sincerely,
Fraser Mulholland
President & Commissioner
Vancouver Golf Tour