Can't Beat Kauai
Details

Category: Inside Golf
Published: 2017-07-31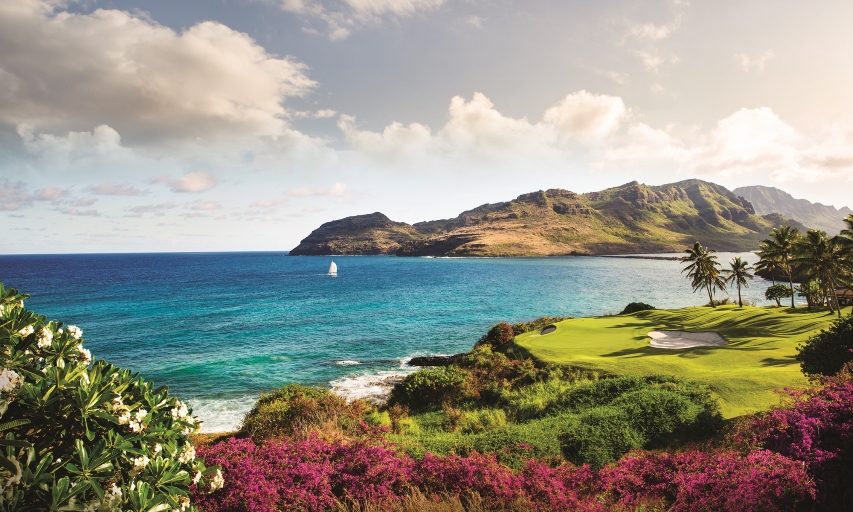 The Ocean Course at Hokuala (Photo/Hokuala Golf Club)
KAUAI, Hawaii (Lisa Vlooswyk/iG) — When you imagine a tropical paradise, there is a good chance you are bus stop dreaming Kauai.
It offers lush terrain, warm sandy never ending beaches, turquoise water, a slowed pace, stunning golf courses and a rugged picturesque coast line. Fragrant mystical flowers you can only find in high end flower shops back home, grow wild on this island.
Kauai is the oldest and Northern most island in the Hawaiian island chain. Year round temperatures average 21-29 degrees Celsius.
It is the ideal golf destination offering world class courses throughout the island. Travelers will arrive at the airport in Lihue. 
If you have been to Kauai before you may be looking to tee it up at Kauai Lagoons, located near the airport. The course was a 27 hole Jack Nicklaus Signature design. The course and resort were purchased by Timbers Resorts and has undergone a major renovation, taking the best holes and transforming it into an 18 hole track, now renamed The Ocean Course at Hokuala.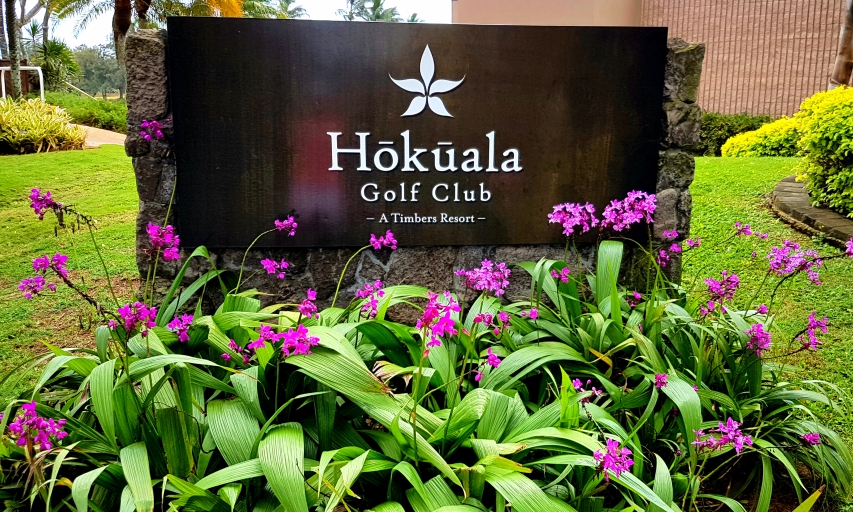 (Photo/Lisa Vlooswyk)
The stunning course is most famously known as having the longest stretch of continuous oceanfront holes in all of Hawaii. In addition to the beautiful vistas you will encounter a true tropical golf experience as you wind your way through guava and mango groves, lush jungle, and inland lagoons.
Don't let the first few holes lull you into submission, by the time you reach the 5th hole a stunning par 3 hole that stretches out to 219 yards from the tips, you will need to bring your A game. It is a forced carry over lush tropical vegetation guarded by bunkers.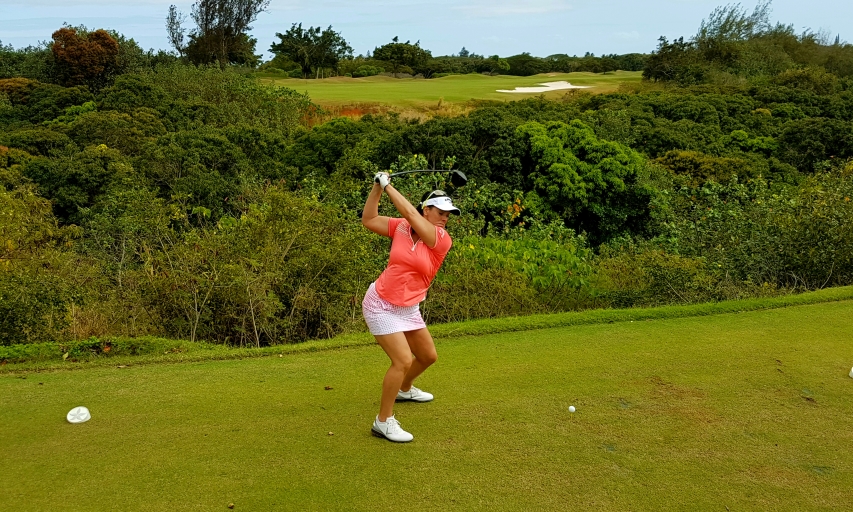 (Photo/Lisa Vlooswyk)
Another stunning par 3 is the 14th hole. It is gorgeous elevated tee shot that drops down to the green boarded on the left side by the turquoise Pacific Ocean.
An equally impressive hole is the risk reward 16th hole. This is a reachable par 4 with a blind landing. If you are looking to score, know your layup distance here and keep the driver in your bag. Make sure to have your camera with you and take a picture from this green. It will be a keeper.
This is a must play on the island. www.hokualakauai.com/golf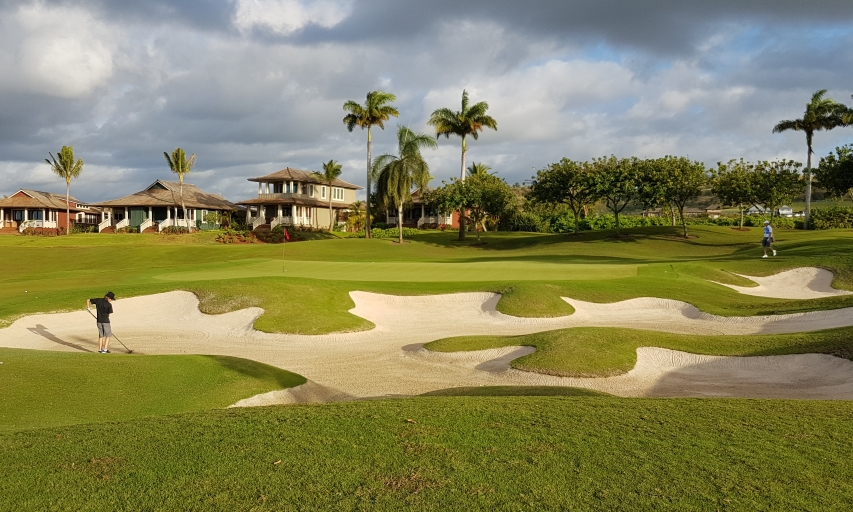 The Club at Kukui'ula (Photo/Lisa Vlooswyk)
Located in the Poipu area is The Club at Kukui'ula. The service and amenities at this course are simply unsurpassed. When you arrive you are greeted by a valet to take your vehicle and direct you to the locker rooms. Wonderful treats and baked goods await you.
When you head to the massive 15 acre practice facility you will find lounge areas and couches on the range to relax.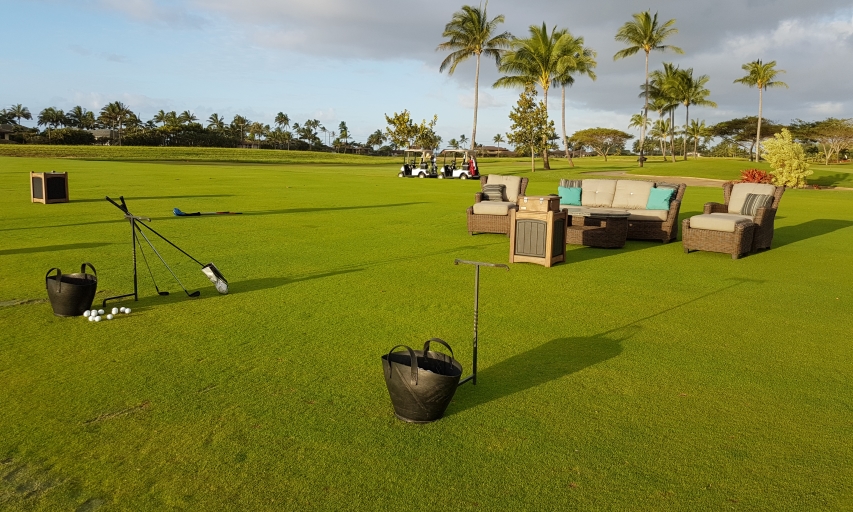 (Photo/Lisa Vlooswyk)
Once you tee off, you would be hard pressed to find a course in such immaculate condition. The course has undulating fairways and spectacular contouring on the greens offering the perfect combination of challenge and playability.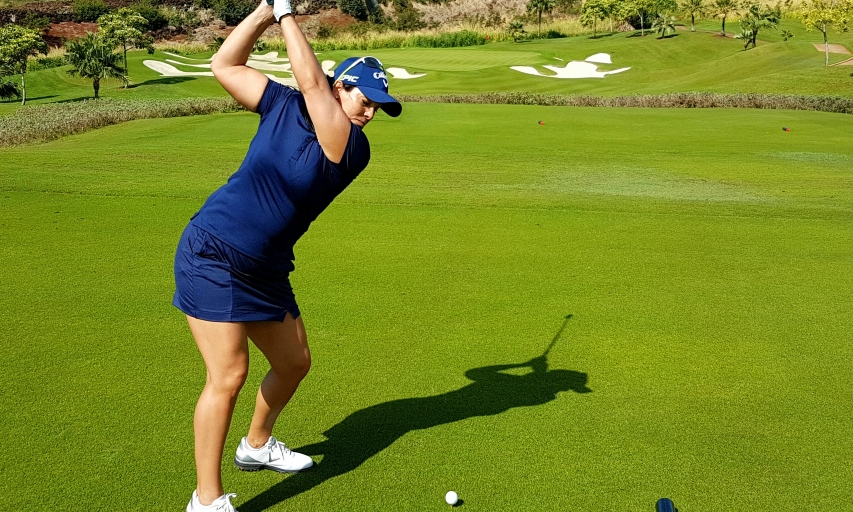 (Photo/Lisa Vlooswyk)
The bunkering not only guards the greens but the shape and styling of them is absolutely a work of art.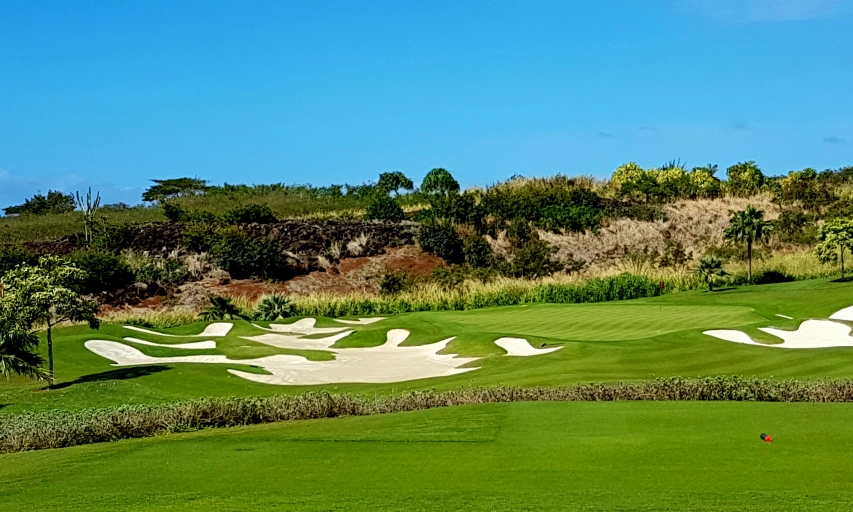 (Photo/Lisa Vlooswyk)
Arriving at the refreshment station at Hole #5 was such a treat. Cold drinks including Hawaiian beer, ice-cream and snack are offered free of charge.
The 14th and 15th holes have breath taking views as you make your approach shots and remind you that you are in paradise.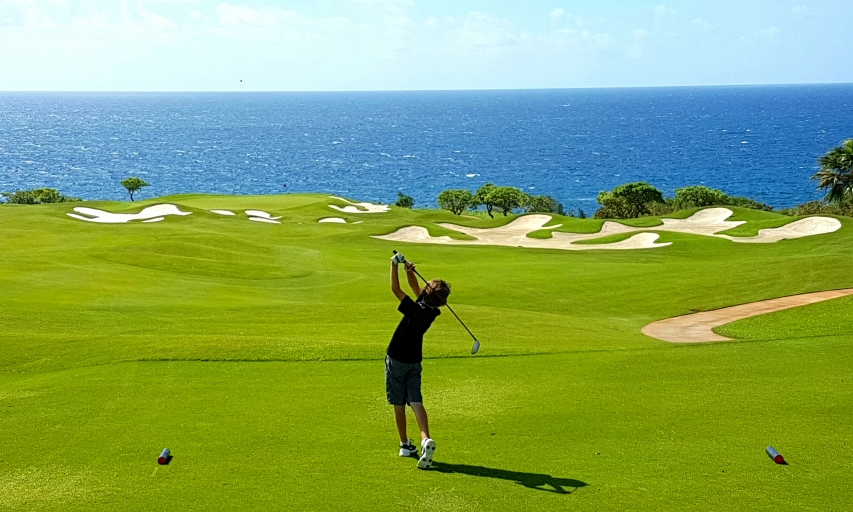 (Photo/Lisa Vlooswyk)
To tee it up here, you need to be staying at one of their beautifully appointed accommodations, a member or a local. This may be yet another reason to move to Hawaii. www.theclubatkukuiula.com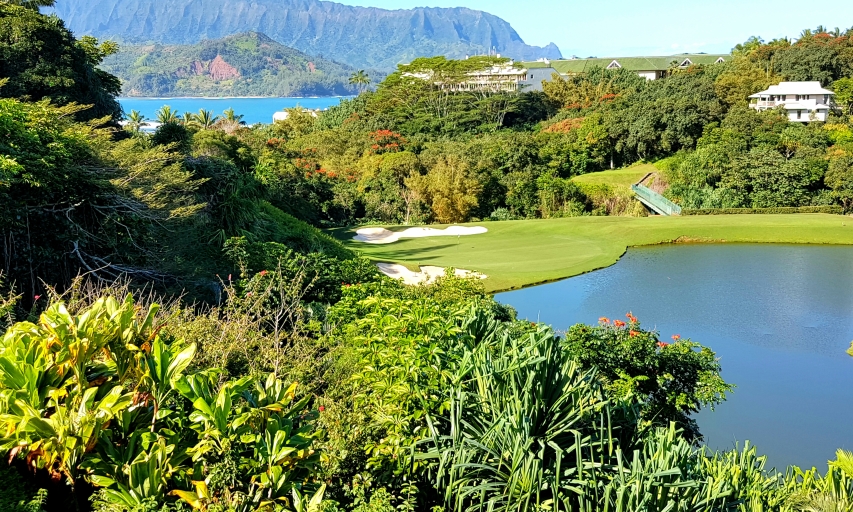 Princeville Makai Golf Club (Photo/Lisa Vlooswyk)
Although it is a bit of a trek from the Lihue and Poipu area, you will be thankful you made the drive to play on the North Shore at the Makai Princeville course.
You will be greeted with a warm welcome at the bag drop area followed by a fantastic practice facility. 
The opening holes of the Robert Trent Jones Jr. track are a perfect warm up and you will be gobsmacked when you hit the 3rd tee box. It is an extraordinary elevated tee to a well-protected green far below with water catching any balls missed right. 
Just when you thought that was the signature hole you come up on the 7th hole, a spectacular par 3 with a precarious carry over a lush gorge, pretty mountain range as a back drop and an expansive ocean view to the right. Definitely a photo op hole.
Not be out done, the 14th hole has a similar vista with ocean views down the right side of the hole and a carry over a deep lush ravine. Long hitters will lick their chops going for this driveable par 4.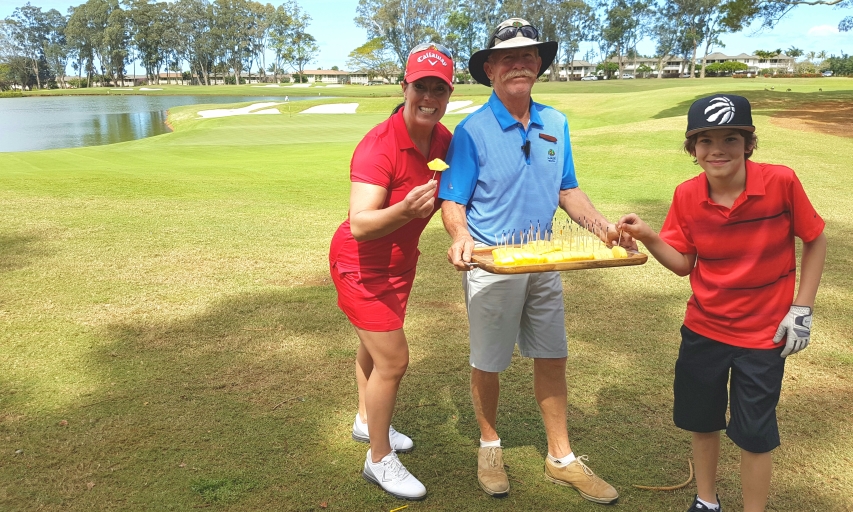 (Photo/Princeville Makai Golf Club)
A surprising and appreciated treat is when one of the staff members comes by during your round and serves fresh sweet Hawaiian pineapple to guests. The perfect aloha touch. www.makaigolf.com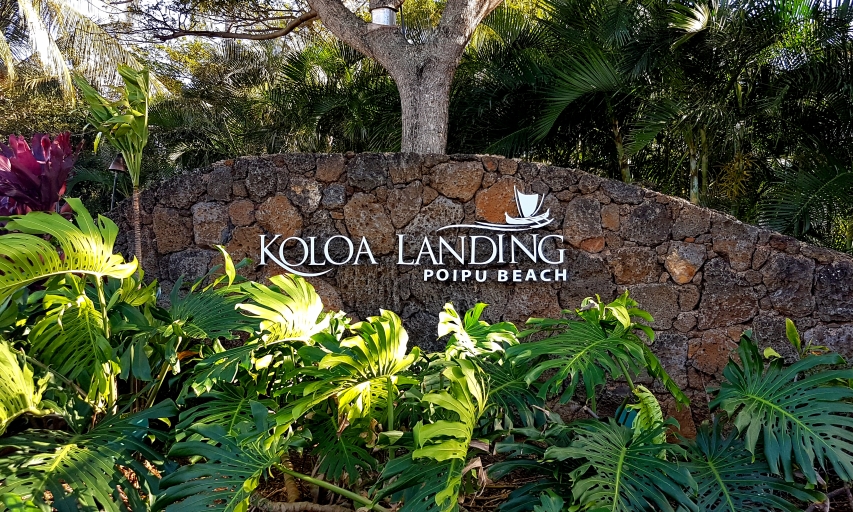 (Photo/Koloa Landing)
When staying on the island check out the new Koloa Landing Resort at Poipu. This property offers the largest luxury villas on the island. The basic villa studio is twice the size of a standard hotel room and comes equipped with kitchenette, perfect for making healthy and quick breakfasts.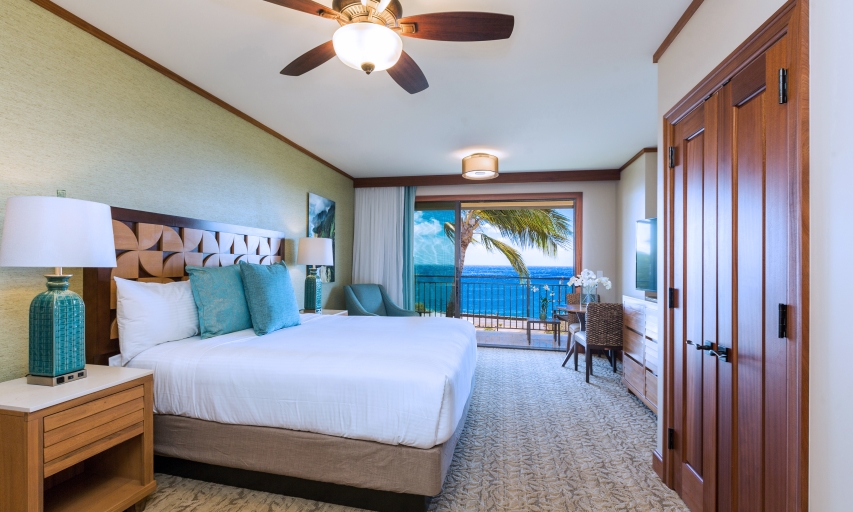 Studio Villa With Ocean View (Photo/Koloa Landing)
The suite also comes with both a washer and dryer, extremely handy while traveling.
One, two and three bedroom villas are also available perfect for families, and have a bathroom for each bedroom. It offers privacy and living space to truly help guests relax. All villas are appointed with full kitchens and cook wear so you can even entertain on holidays or simply enjoy the spacious lanais.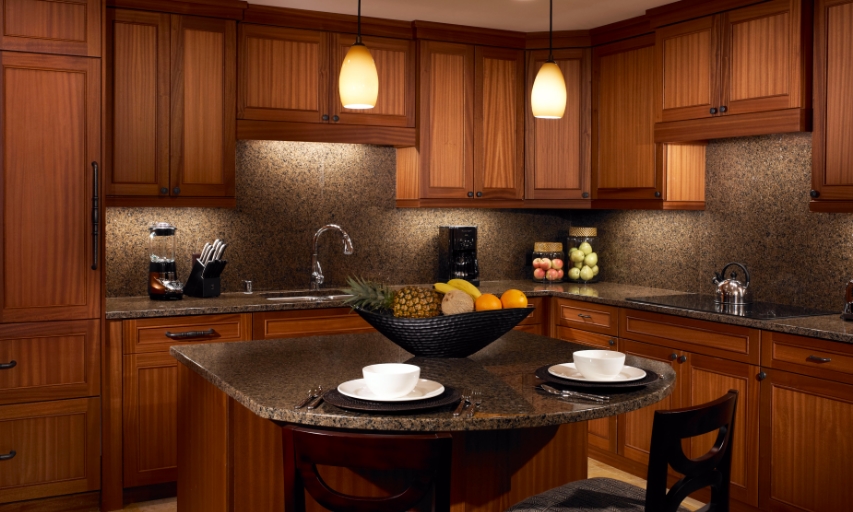 Full Kitchen In A 3-Bedroom Villa (Photo/Koloa Landing)
A Royal Luau is offered every Tuesday night, offering a complete and authentic Hawaiian experience.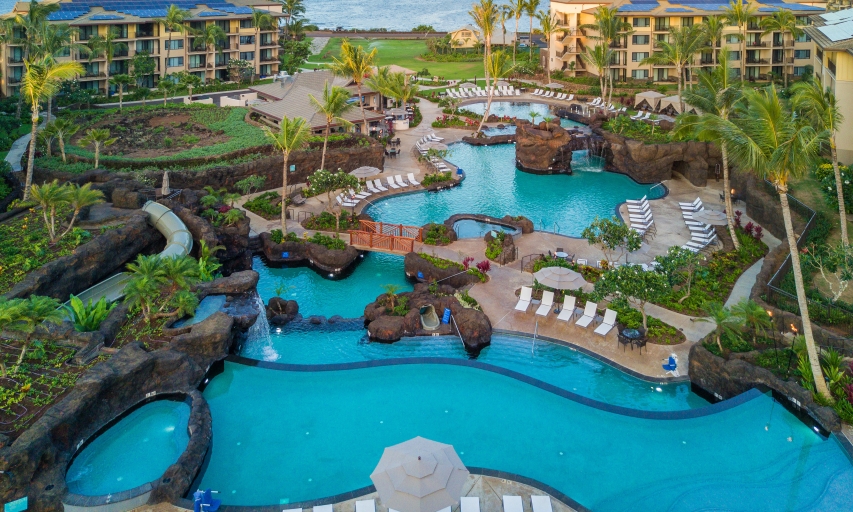 Aerial Shot Of The Pools On Koloa Landing (Photo/Koloa Landing)
There are two pools on property. The Lagoon Pool and the newly opened Main Pool. No expense was spared on this water playground. It is multi-terraced with waterfalls, a swim-through grotto, an infinity edge, wooden bridges, two water slides, three Jacuzzis and large open swim spaces. Even adults will be kids at heart here.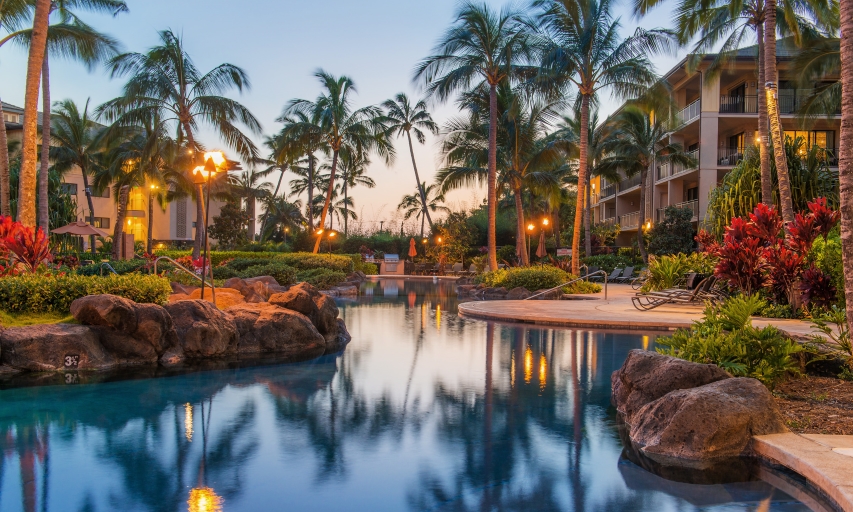 Lagoon Pool (Photo/Koloa Landing)
To pamper yourself make an appointment at the Koloa Landing Spa. There is a relaxing pre-treatment suite perfect to unwind in. In addition to private treatment rooms softly playing Hawaiian melodies, there are couple's treatment rooms which offer a private lanai, rainfall shower heads and has the island's only Japanese Ofuro soaking tub. Truly paradise. www.koloalandingresort.com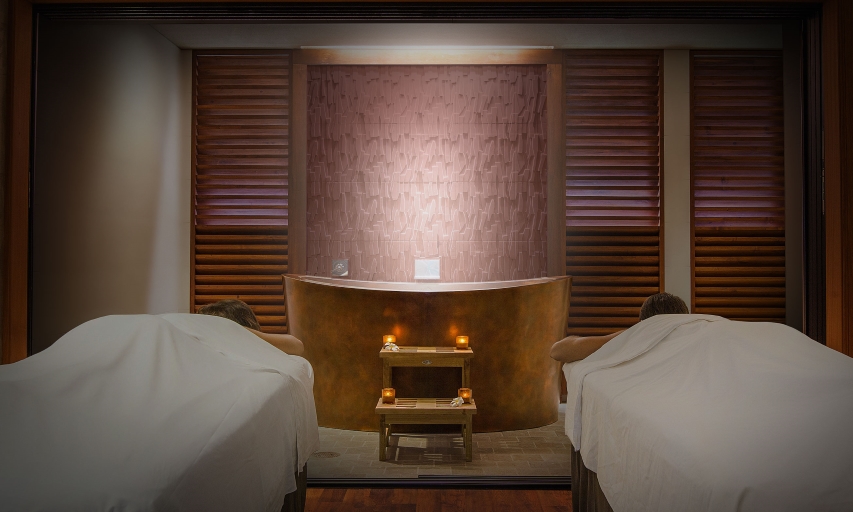 The Spa At Koloa Landing (Photo/Koloa Landing)
Not to miss on the island is a trip to many of the beaches that appear to be endless. Play in the waves and spread out on your seemingly private beach.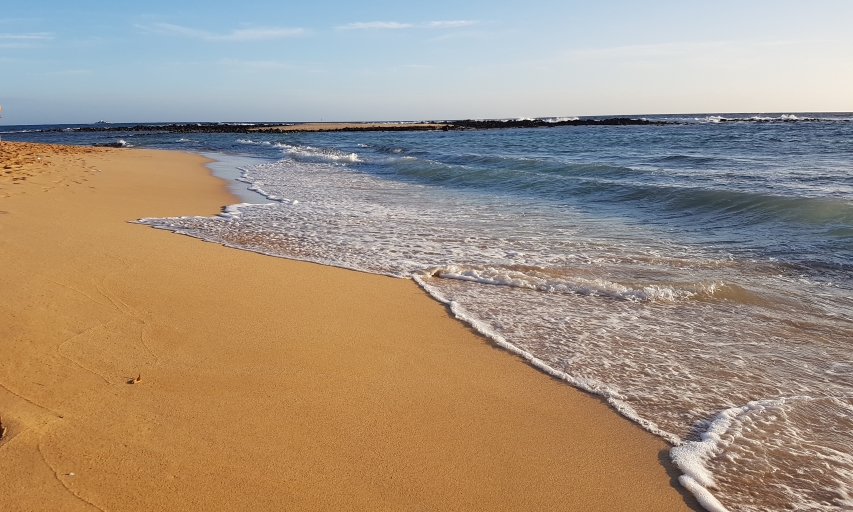 (Photo/Lisa Vlooswyk)
A trip to Waimea Canyon, also known as the Grand Canyon of the Pacific, is also a must. It is worth the drive up to view the canyon which is approximately 16 km long and up to 900 m deep. The canyon is chock-full of red soil. Take time to stop and explore the red soil areas and with waterfalls.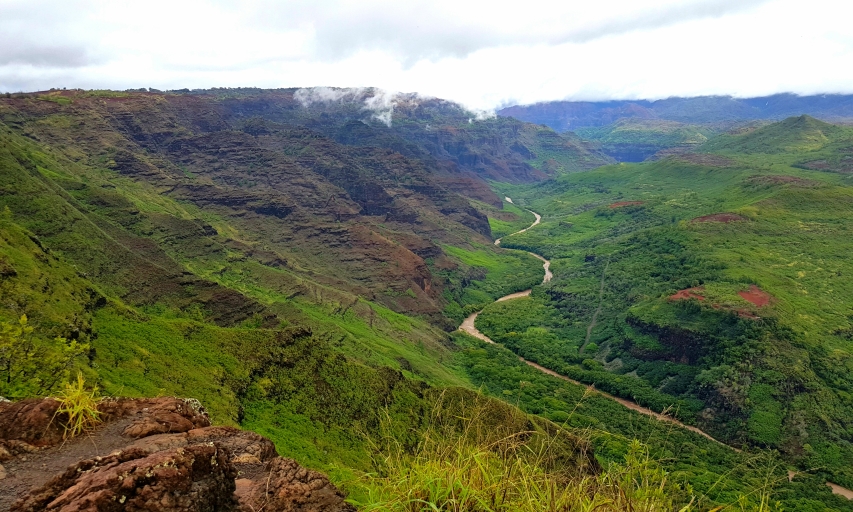 Waimea Canyon, The Grand Canyon Of The Pacific (Photo/Lisa Vlooswyk)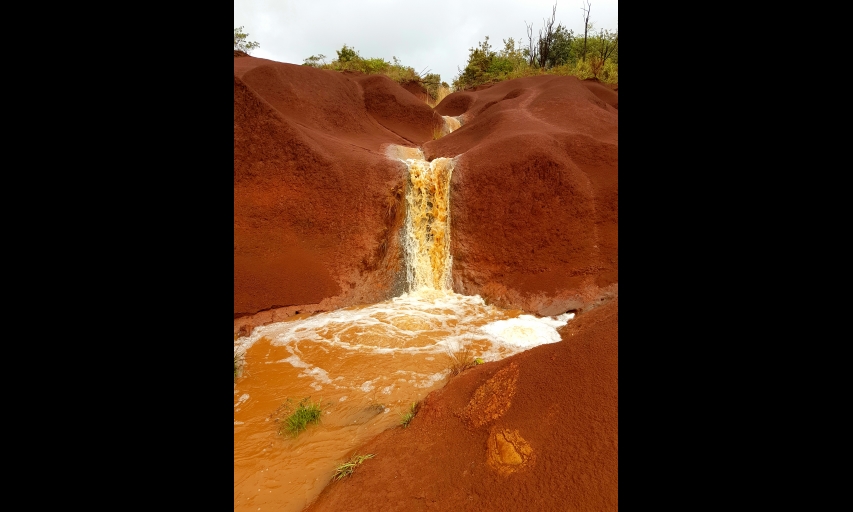 Waimea Canyon (Photo/Lisa Vlooswyk)
A trip to Kauai would not be complete without going on a whale watching adventure. Take a sail with Blue Dolphin to not only catch a glimpse of these magical creatures but to also see the gorgeous Na Pali Coast, best viewed from the sea. www.bluedolphinkauai.com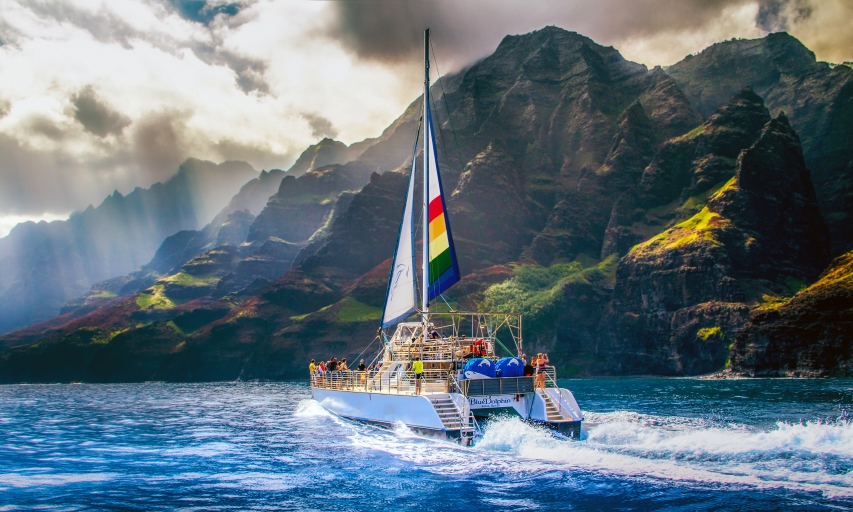 (Photo/Blue Dolphin)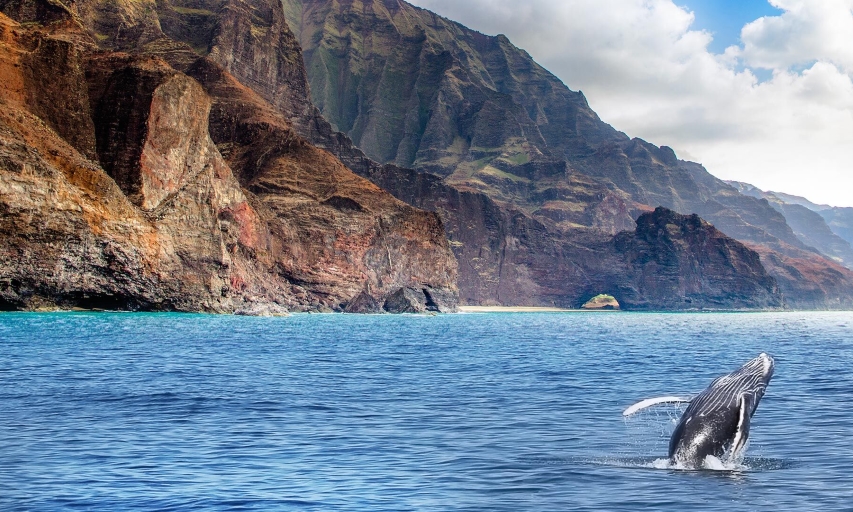 (Photo/Blue Dolphin)
Finally, you can't leave Kauai without getting a shave ice. Often mispronounced shaved ice, this crushed ice treat flavoured with tropical concoctions will literally melt in your mouth. It is heaven.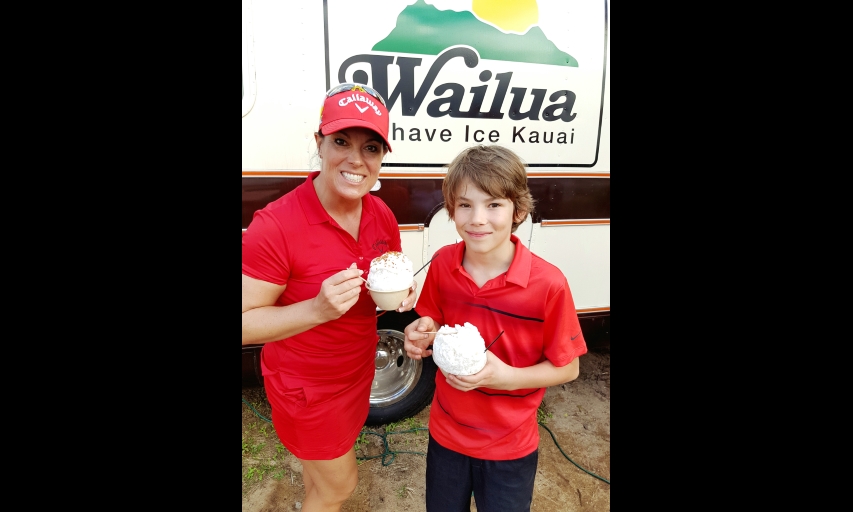 (Photo/Lisa Vlooswyk)
Once you visit Kauai, I guarantee you will return time and time again.
---
About The Writer
Lisa "Longball" Vlooswyk is a 7-time Canadian Long Drive Champion and currently ranked Top 5 in the World. She is a Keynote Speaker, Golf Journalist, Golf Entertainer and just launched a new Instructional Video. Lisa can be reached through her website www.lisalongball.com or through Twitter @LisaLongball.