adidas Golf Unveils Limited-Edition CODECHAOS Footwear Collection
Details

Category: Inside Golf
Published: 2020-05-26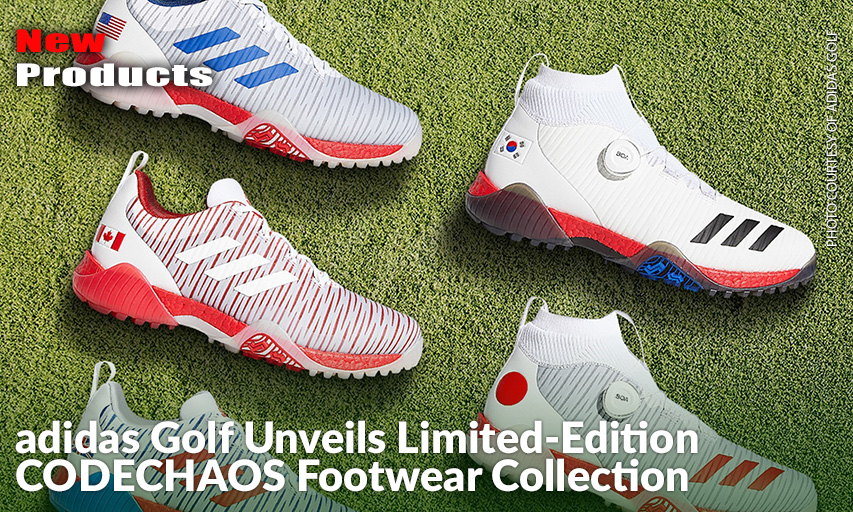 While the world's best golfers will have to wait one more year to represent their countries, adidas is making sure golfers everywhere can start showing their pride today. adidas Golf unveiled a collection of limited-edition CODECHAOS footwear models - the Nations Pack– giving players the opportunity to put their nation's colors on full display the next time they are on the course.
The limited-edition footwear models represent five different parts of the world: the United States, Canada, United Kingdom, South Korea and Japan. Each model incorporates colors from their respective flags and are built on the latest CODECHAOS and CODECHAOS BOA® silhouettes. All colorways are unique, empowering players to be honorary members of each country's team until the world's best head to Tokyo in 2021.
"In many parts of the world, golf is just starting to come back," said Masun Denison, global footwear director, adidas Golf. "We hope this new footwear not only provides golfers with a unique way to showcase their pride, but also give them something to look forward to as their nations lift restrictions and are able to get back out on the course."
The five models of the CODECHAOS limited edition are:
Announced earlier this year, CODECHAOS changes the definition of what a golf shoe can be by combining an athletic style with the technology that every player needs. It's highlighted by the Twistgrip traction system, which was specifically designed based off data from heat-map studies on how players shift their weight throughout the swing. That means players always have the grip they need, exactly where they need it. The upper provides enough stability for both the weekend golfer and the tour pro, while the waterproof material means golfers can head to the course in any conditions.
The new footwear is available today in the U.S. and South Korea, with select countries coming soon*.
*Limited-edition models of the Nations Pack will be available in Canada on June 1 and in Japan on June 11. Models specific to Europe will be coming in June, so stay tuned for more details.