Final Word: Not At The Point Of A Bayonet
Details

Category: Final Word
Published: 2015-12-30
by Jeff Sutherland - Ten years ago then club chairman Hootie Johnson said, "Augusta National might one day have a woman in a green jacket, but not at the point of a bayonet."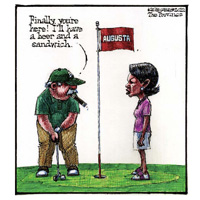 An interesting rationalization for doing nothing when just more than a decade previously Augusta National, clearly bowing to public pressure, accepted their first black member.
New chairman Billy Payne came on board in 2007 and, according to an unnamed source at the tight-lipped club, immediately started looking for appropriate female members.
Five long years later we have Condaleeza Rice donning a green jacket.
For all the inexcusable foot-dragging on these discrimination issues, the club does deserve credit for taking a more forward position on one of the other issues facing golf.... namely revitalizing the game which has seen a near 15% decline in number of players since 2005.
From an online "suggestion box" to solicit opinions on how to grow and improve the sport to a Junior Pass Program, under which a child is now admitted free to the Masters when accompanied by an adult badge-holder to giving a Masters' invite to the winner of the Asian Amateur Championship (Augusta believes that golf's growth will occur in the region), Payne is spearheading a new-look 21st century Augusta National.
All positive initiatives but they pale in comparison to the growth potential of simply getting a greater percentage of women to take up the game. The reality is only 4% of women golf and only approximately one-in-five golfers is female.
If the number of women who played golf rose to match the number of men, the total number of players would rise
by 60%. Seem unattainable? Close to half of tennis players are women.
This is not news. The golf industry has been aware of this for a long time and has made moves to address it. The trouble is that none of these have worked.
The percentage of women who golf and the proportion of golfers who are women have not changed in the past thirty years. Sexism like that shown by Augusta National may have something to do with it. 
Women were second citizens in golf until the turn of the century. From not being allowed access to weekend tee-times to male members who did not hide their disinterest in teeing it up with women, discrimination was the norm.
Things have changed since. Women now have equal rights to access, male attitudes are changing, and so on. All of this should result in more women playing... but they are not. One move that might help would be more women in the industry.
It is not hard to argue that women are likely to have a better handle on what women golfers want than men. You'd figure golf would have a dramatically increasing percentage of women in the positions that matter... instructors, directors of golf and general managers.
Unfortunately, this is not the case. reasons why may be many but some have to do with rate of change. Women have taken their rightful place in the corporate world and politics... but the seeds of those changestook root as far back as the 1970s.
Golf's awakening is much more recent. Many of the GM's and Directors of Golf of today are the young instructors who came into the business 20 years ago and they were virtually all men.
Bottom line, the pool of women with the appropriate skill set to take on these senior positions is just not that deep yet. One exception to this is Tiffany Gordon at Cottonwood G&CC in Calgary.
Tiffany went to work there more than twenty years ago and has risen through the ranks to General Manager and agrees that golf could use more women in the industry, "There is no question that there is a comfort level for women when dealing with another woman."
"But the really big thing is not just attracting women but keeping them. Women want more structured programs to keep them happy and we need to provide those to keep them coming back.
To find out what they want we need to ask a lot of questions, try to listen and then be prepared to give them what they want. At the same time we can't forget the men and what they want.
For them, it's more of, 'What's my tee-time and from then on I can take care of myself.' As a manager, it is my job to meet both of those needs."
That is the problem in a nutshell. To be successful, golf courses now need to be many things to many people... A tough track for the testosterone-driven males, a fun experience for kids and a structured but flexible program for women. 
A tough juggling act but if we are to make courses viable businesses in the coming decades, it will need to be done. And not matter how metrosexual our current male GMs can become, there is no question we will be better off with a better balance of women to men in key positions in the industry.
Unfortunately as we speak, across Canada no more than one-in-twenty PGA of Canada Professionals is a woman. Further up the corporate ladder, it's is even more disturbing.
The number of General Managers in BC and Alberta at major golf clubs who are women can be counted on one hand.
This has to change to reflect at the least the proportion of golfers currently who are women... one-in-five and, optimally, over time match our target proportion for women golfers of at least two-infive.
Of course, if Augusta National was to have a female chairman that would help too.
About the author: Jeff Sutherland is the publisher of Inside Golf Inc. and has had a clear gender policy for the past twelve years that includes having one out of four cover stories be about women and to have an editorial staff that is at least 40% female. He can be contacted at This email address is being protected from spambots. You need JavaScript enabled to view it.